Ready to go? Book your Charleston Harbor Tour with our coupon code: travelingink


A View from Charleston Harbor
Guests can relax aboard the Carolina Belle as they cruise the scenic Charleston Harbor and the Cooper River. Visitors to Charleston Harbor Tours will enjoy a 90 minute tour of the harbor as the captain gives guests history and insight on the landmarks and points of interest along the way. Patrons can expect to see various church steeples, army forts, and historic buildings. They may also be joined by pelicans and a curious dolphin or two. This is an excellent option for folks looking to put their feet up and cruise while taking in some beautiful scenery.


Tours Aboard the Carolina Belle
The 80-foot Carolina Belle features a choice of viewing locations for guests. There are two decks, a climate controlled Main Salon, and an open air Observation Deck. Tours leave from the Charleston Maritime Center located at 10 Wharfside Street, Charleston SC 29401. Tour times vary according to the season. See the Harbor Tour Schedule on the right side of the page for a complete list of available times. Guests are asked to arrive 25 minutes prior to the scheduled departure time for each tour. Reservations are not necessary.


Charleston Harbor Tours Daily Tour Pricing
Adults (Age 12 and over): $38.50
Children (Age 4-11): $25.00
*Prices above are before Traveling Ink discount (see below for coupon code). Childen 3 and under are free of charge.


Discount Pricing for Daily Harbor Tours
Traveling Ink guests are offered a discount on Harbor Tour tickets. Click here for a harbor tour coupon.. Guests buying tickets the day of the tour must print out the coupon and bring it with them to the ticket kiosk. Guests who wish to book online may use the Charleston Harbor Tours discount code: travelingink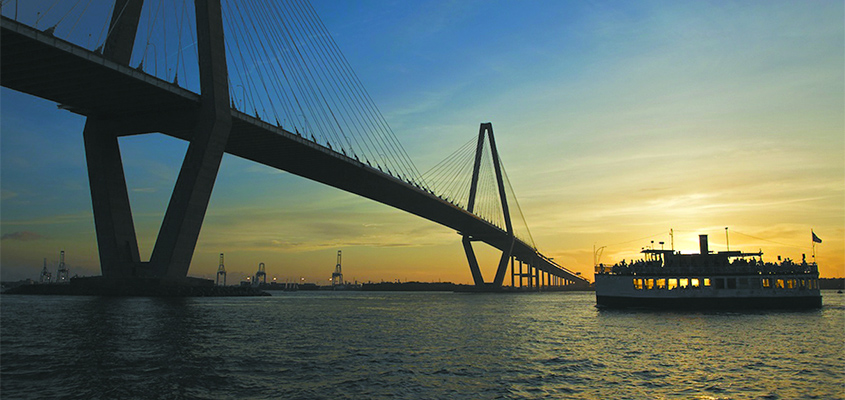 Tour Points of Interest
•Fort Sumter: One of the most well known landmarks in Charleston, where the first shots of the Civil War were fired.
•Fort Moultrie and Fort Johnson: Confederate and Union army forts. The first fort on Fort Moultrie, built of Palmetto logs, inspired the flag and nickname of South Carolina. Fort Johnson saw action in both the American Revolution and the Civil War, and is now owned in part by the South Carolina Department of Natural Resources, the College of Charleston, and the Medical University of South Carolina.
•St. Michael's Episcopal Church: A survivor of both the Revolutionary and Civil Wars, it is the oldest church building in the historic downtown district dating back to 1751.
•The Battery: Stately homes line the southern end of the downtown peninsula
•The Cooper River Bridge: Formally named the Arthur Ravenel Jr. Bridge, it is one of the longest span bridges in the United States.


Where to Board the Tour
Charleston Maritime Center • 10 Wharfside Street, Charleston SC 29401
source: Charleston Harbor Tours, SCDNR