Date: March 6th-10th 2019
Location: Various Charleston locations, Culinary Village in Marion Square
Cost: Tickets vary by event. $45 and Up. Tickets for next year's event are not yet on sale.
The Charleston Wine + Food Festival has just wrapped up another successful event and will return next year on March 6th. Stay tuned for updates.
The annual event brings something for every taste bud as guests dine with local chefs and culinary experts. A variety of experiences and packages are available, including the ever popular Culinary Village which resides in Marion Square. To see all available tickets, click here.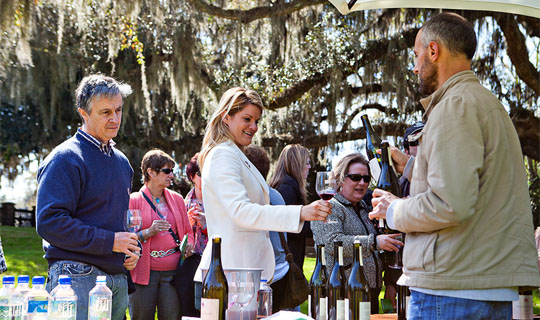 For those who appreciate a perfect beverage to accompany their meal, the Wine + Food Fest does not disappoint offering guests access to a number of tastings, winemakers, cocktail, and beer experts. Wine pros include Bianca Bosker, Axel Schug, Eric Asimov, Jody Brix Towe, Kathryn Walt Hall, Rob Mondavi, Jr., Wynne Peterson-Nedry, and more. Those who lean toward beer and mixed drinks will appreciate the presence of Colleen Hughes, Jason Cox, Jillian Vose, Lucas Widrick, Madison Pere, and more.


For most guests, it isn't just the food and wine that brings them out, but the ambience of various venues in the Lowcountry. Guests can enjoy a down to earth dining experience with Lowcountry oysters, a stroll through the oaks with a glass of wine, or an upscale affair at a downtown Charleston hot spot. Whatever your taste, you won't be disappointed!


Source: Charleston Wine + Food