You know you're famous when a massive crowd of 14-year-old girls comes screaming through an open gate at you. At least that's what bassist Coleman Sawyer felt when Stoplight Observations played at Brittlebank Park for Spring Jam this year. But the group of middle-and-high-school-friends-turned-band-members played on their biggest stage yet May 24th at the Charleston Tea Plantation's annual First Flush Festival, right before the Avett Brothers headlined.


The First Flush Festival celebrates the beginning of a new tea harvest with good music, free tea, and the usual array of food trucks and craft booths. This year's line-up of bands was mostly local, except of course for the Avett Brothers, and Stoplight Observations (SLO) was proud to represent. The group of twenty/twenty-one year old guys have been enjoying a steady increase in popularity and recognition, having also played at Bonnaroo in 2013. This may be due in part to their intriguing mosaic of musical genres, which allows them to reach a variety of audiences. According to lead singer Will Blackburn, the band will often come into a show with a set list, then change it on the fly as they gauge the audience's vibe and what their musical wants are. Blackburn told me that in the same show they might play a couple of heavily synthesized songs alongside a folky fiddle tune.


I asked Blackburn and Sawyer how they felt about producing radio music as a jam band, but despite their claims of having mixed feelings about the inherent conflict, overall they seem confident that they will stay true to their identity. "Make radio music whatever you want it to be," was their conclusion. They mourn what they refer to as the death of great guitar solos.



Watching SLO on stage, you could tell that they are, as Will described, a bunch of best friends who get to share business and passion, and it was an entertaining performance. Besides their fantastic range of apparel, from overalls to a Dracula-esque white button up and cape, their peppy ambience and musical talent made them an up-and-coming group worth enjoying. You can pick up their new Album, Radiation, or you can catch them next time they visit their home town and old stomping grounds. They recently played at Moultrie Middle School, where founding member John-Keith Culbreth first extended his friend Louis Duffie the invitation to start a band. They will be performing in Asheville, NC on June 19th at the New Mountain Theatre and later in June at the Firefly Music Festival in Dover, DE.


In addition to Stop Light Observations, I had a chance to speak with Taylor Nicholson of Atlas Road Crew, also on the lineup at First Flush but focusing more on a classic rock sound. Four of the five band members were fraternity brothers at the University of South Carolina, and their early days of jamming evolved in what Nicholson calls a "20'x20' metal box"—a storage unit on Atlas Road where the guys practiced.
The group has been writing songs for a full length album to be released this August, and formerly released a debut EP produced by Mark Bryan of Hootie and the Blowfish. Most of the music is written initially by Nicholson and drummer, Patrick Drohan, then passed around to all the band members for tweaking to accommodate all the instrumental components. The group will be back in the Charleston area on June 12th to play at the Pour House on Maybank Highway.


In addition to hearing great bands throughout the day and into the evening on two different stages, the festival also gave back to the community by supporting local nonprofit, Camp Happy Days. Representatives and volunteers from this organization, which provides support to South Carolina families battling juvenile cancer, were raising money throughout the day. Camp Happy Days is in the midst of their last push to raise support for their week long summer camp which they put on free of charge for the kids and their siblings (click here to see how you can donate funds or supplies to Camp Happy Days). The crowd on hand loved supporting the kids, and a few lucky individuals won some fantastic prizes while doing so, such as a year's supply of tickets to Music Farm shows and a signed guitar from the Avett Brothers.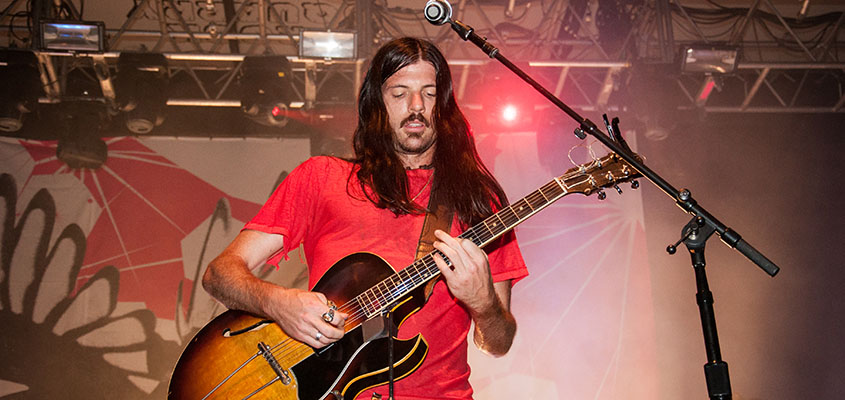 Despite the arduous drive out to Wadmalaw Island and the slow moving traffic into the plantation, this year's festival was very enjoyable. The Avett Brothers played a marvelous set to cap off the night. As they left the stage, the crowd called out for more. The band did not disappoint, coming back to stage to do a handful of songs as an encore including one in particular I was hoping they'd play, Head Full of Doubt / Road Full of Promise - I and Love and You Album. The warm Charleston night was perfect, and at one point I even noticed fireflies blinking above the tea bushes.


To those who are considering the festival for next year, I would recommend arriving early in the day, as it got increasingly more difficult and time consuming to get into the parking lots the later it got in the evening. Bring a blanket, grab some free sweet tea and a bag of kettle corn, and find a spot in the tea fields—if you love music and the back road country of Charleston, you won't be disappointed.


Lauren's name means "A crown of laurel leaves," which is what the ancient Greeks used to give the poets they wanted to honor. Perhaps that's why she loves to write. She also loves to sing Taylor Swift a little too loudly, paint, collect insects, laugh at what God's doing in her life, and take care of her chameleon. She moved to Charleston because she was always cold and needed a warmer climate. She loves all this city has to offer—the history, the art, the romance, and, of course, the water!