This blog could have easily been titled: "Have You Tasted the Tea?", "Stop Light Observations Triumphant Return", "Sheryl Crow Makes Us Happy", "Help Send a Kid to Camp", or even "The Tarlatans May Not Be the Tarlatans Anymore". There was so much hearty content wrapped into one Sunday at the 9th Annual First Flush Festival, it's hard not to hit everything, but I'll try to shine a light on some of the highlights.


Let me start with the location. If you had gathered the staff at the Charleston Tea Plantation together ten years ago and told them they'd have a single day where attendance at the plantation reached close to 10,000, I think they would have been a bit taken back. But that's what has transpired. And though the big musical acts are the big draw these days, the festival's success didn't start with tunes, it was born out of a love for tea.


The Bigelow Tea Company, along with Bill Hall decided to organize a festival to celebrate the first flush (the very first crop of tea leaves harvested in the spring). The first flush of tea leaves offer a bit of a unique flavor to those grown during the rest of the season. The folks at the Charleston Tea Plantation wanted to celebrate that, and give people a chance to tour the facilities and enjoy a day out on the plantation. Each year the folks at the plantation produce a tasty batch of sweetened and unsweetened tea that they provide samples of free of charge to festival guests.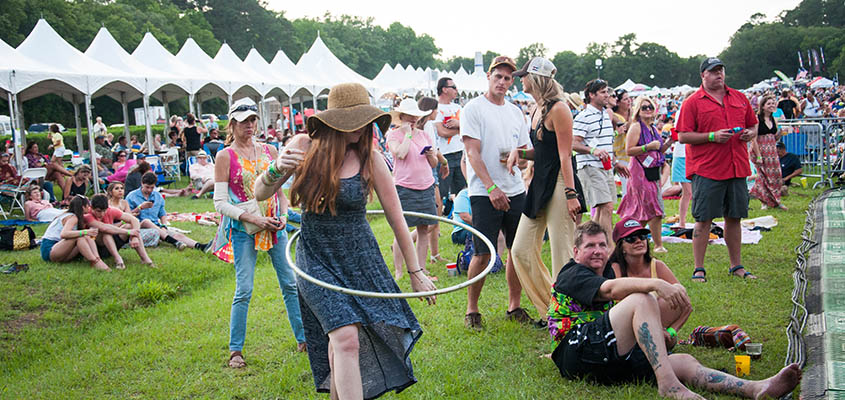 The bands that played the festival in the early days were mostly local favorites. In many ways, that hasn't changed, but more people are coming to see them...a lot more. Homegrown heroes such as Ben Fagan and the Holy City Hooligans, Dangermuffin, The Tyler Boone Band, and Stop Light Observations graced the stage this year to get the crowd warmed up for Sheryl Crow.


Newcomer to the festival this year, but not the Charleston music scene, are the Tarlatans. For fans wondering about my comment above that the band may soon cease to exist as we know them, don't fret. The band is very much together and planning on producing and playing music for a good long time. They are simply pondering a name change to reflect some musical morphing that has taken place.


They started as a well liked 4-piece Americana Band during their time at Clemson University and have grown a solid fan base in the Lowcountry. As the band has matured, their sound has evolved as well, and they've fallen for a bigger festival sound. When I spoke with two of the band members, Taylor McCleskey and Eric Mixon, they described their band as a fun version of the Talking Heads meets REM meets stadium sound, impressing upon me that the band was more about the music and the vibe of playing a big, live show now.


A bigger sound isn't all that is new for the Tarlatans (that's what I'll keep calling them until they figure out what to call themselves). Their lyrics are evolving as well. One of the things they mentioned they were writing about was the anxiety felt about the timeline and progression of their lives (ie. the idea by age X I thought I'd be at point Y). I think there are plenty of people out there who thought by a certain age they'd be at a certain place in their career, relationships, starting a family, etcetera. As a thirty-something who is very aware of the struggle to evaluate whether or not I think I've achieved enough in my life thus far, I found the idea of such lyrics refreshing and incredibly relatable. For those interested in checking out the Tarlatans music, browse to their Sound Cloud page or see them live at The Royal American June 20th if you missed them at First Flush.
I also caught up with Stop Light Observations (SLO) at this year's festival, a band that has continued to see a successful climb in their fan base. When Traveling Ink writer, Lauren Holmer, and I met the band last year, the First Flush Festival stage was the largest they'd ever played. Though they'd played on smaller stages at bigger festivals such as Bonnaroo, it was easy to argue that when they took the stage last year at the Charleston Tea Plantation, The Avett Brothers were the biggest band they'd ever opened for. They played a great show last year despite the fact they had some understandable nervousness before they went on.


When I caught up with John-Keith Culbreth, Will Blackburn, and Louis Duffie of the band before this year's set, they said they had shaken off the nerves a bit more this time around. It showed when they took the stage. Let me reiterate, they played a very enjoyable show last year. But this year, everything was just a bit more polished. I could tell they'd been playing more shows in front of more people. They had spent even more time honing their craft. The investment showed.


SLO also reconnected with some happy campers at this year's festival. Back in 2014 before the band opened for the Avett Brothers, they had the opportunity to connect with Camp Happy Days' Programs Director, Teresa Bishop. For those unfamiliar with Camp Happy Days, it is a wonderful nonprofit that strives to assist families in South Carolina who are battling juvenile cancer. CHD has received fundraising support from the First Flush Festival this year and last. Though they run programs and support families throughout the year, CHD's big event each year comes the last week of June when they host a week long camp for kids fighting cancer and their siblings.


After meeting at the festival last year, SLO decided to make a trip out the camp last summer to surprise the kids with a performance. They spent the day at camp eating in the cafeteria, getting blobbed, and hanging out with the kids. A handful of campers were back at the tea plantation this year, and were quick to spot the band members who had taken time to spend the day with them last summer. I think it's safe to say the band has a standing invitation to play at camp again if the stars align once more. Those who would like to learn more about Camp Happy Days can check out their page on the Traveling Ink website. Those who would like to support their very worthy cause can donate here.


Finally, a full day of music was capped off by a performance by gifted musician, and high-profile cancer survivor herself, Sheryl Crow. Crow has won more than a handful of Grammys and sold over 35 million records. When Bill Hall of the Charleston Tea Plantation got up to introduce her, he said he wasn't sure how they were going to try and top Sheryl Crow next year (though I'm sure they'll make a valiant attempt at the difficult task). She played for close to an hour and a half including an encore performance, playing a mixture of newer music and older favorites such as "Strong Enough", "Soak Up the Sun", and "All I Wanna Do".


Before the night ended, Hall made sure to encourage everyone to get home safely. He told festival goers if they couldn't find a safe ride home on their own or via newer festival partner, Uber, that folks should simply sleep in their cars, and they'd wake people up in the morning. I didn't stick around to find out, but am curious how many people might have taken him up on the offer.


All images © 2015 Audra L. Gibson.
Audra Gibson is a Christian, photographer, surfer, and a lover of teriyaki steak bites. She enjoys live music, doesn't like to be cold, and she's a bit of a cheese snob. Traveling Ink was her little brain child and she's very happy that you're here. She'd be oh so happy to recommend her favorite tours and attractions in town, help you with a team building event, or organize a day (or week) of fun for you and your group.
Website: www.audragibson.com