I have the privilege of living in what I believe to be one of the most amazing cities in the United States – Charleston, South Carolina. To back up my claim, Charleston was named the best U.S. city by Travel + Leisure magazine, and the number 2 city in the world in 2017. Anytime I tell people where I live, they always say……oh, I LOVE Charleston. Or, oh…I've always wanted to visit that town.


One of the best ways to get to know a place like Charleston is by taking a guided tour. And we have a TON to choose from. There are numerous carriage tours, walking tours, and ghost tours to choose from. My favorite is the culinary tour. There's no better way to see a city, learn about the history and experience its culture than through its cuisine.


Charleston Culinary Tours offer a number of tour options. There's a Downtown Charleston Tour, which visits many of Charleston's "classic" restaurants serving traditional Lowcountry cuisine. A Chef's Kitchen Tour gives guests a behind the scenes peek into the creative process of some of Charleston's most successful restaurants. There's also a Farm to Table Experience, an Oyster Tour, a Mixology Tour, and the Upper King Street Tour. My husband and I went for the Upper King tour, which winds its way through the Cannonborough and Elliotborough neighborhoods -- an area of town that's going through a renaissance of sorts. Fantastic new eateries are popping up in this neighborhood all the time – showcasing a mix of Southern favorites and innovative dishes.


There were 14 food-lovers (7 couples) on our tour, most of which were visiting from out of town. Tour group sizes are kept small in order to provide guests the best possible experience. Alcohol is not included in the ticket price; however, adult beverages are available at most stops for an additional fee.


Our tour guide, Charley, kicked off our 2 ½ hour adventure by giving an overview of the restaurants we were about to hit, a summary of what to expect, and a fun icebreaker to help get the conversation going. Our group would be sharing tables and taste sensations for the next several hours, so making friends early on was a wonderful bonus.


There were four stops on our list – three restaurants and a bakery. The mix of restaurants selected on any given tour depends on the availability of the restaurants when you book. So, each tour has its own distinct personality with a possibility for a unique experience each time.


Our eating excursion started at HoM (pronounced "home"). HoM's menu is what I would describe as sophisticated bar food, accompanied with a solid selection of local beers and Southern drinks. We started off with the fried butternut squash, which is one of their newer seasonal dishes. The sweetness of the butternut squash was offset by the tanginess of a chocolate goat cheese and the saltiness of maple bacon arugula drizzled with a balsamic reduction. Divine. Next was the Dixie flatbread. Soft flatbread with pork confit, pimento cheese (a Southern classic), caramelized onions and the maple bacon arugula. As we were chowing down on the deliciousness, we got a history lesson on pimento cheese (how it's made and where it comes from) and Duke's mayonnaise (another Southern classic). The final dish was the Green Gobble'n. A turkey burger with spinach and leeks, swiss cheese, green goddess aioli and green apple. So yummy.


During our 5-minute walk to the next restaurant, Charley pointed out interesting facts about the neighborhood, the architecture, and how preserving the city's history and Southern charm is so important to Charleston. As a matter of fact, CBS News did a piece on the city's dedication to this a few years ago. Charley was an incredible tour guide – super friendly and very knowledgeable. You could tell she loved her job by the enthusiasm in her voice. She really knew her stuff.


Our next stop just happened to be one of my personal favorites – R Kitchen. This small but mighty restaurant has an intimate atmosphere with only 16 seats inside and 20 seats outside in an enclosed back patio. R Kitchen's menu changes nightly (they're only open for dinner) and is dependent on what that day's chef wants to make. It's always five courses for a fixed price.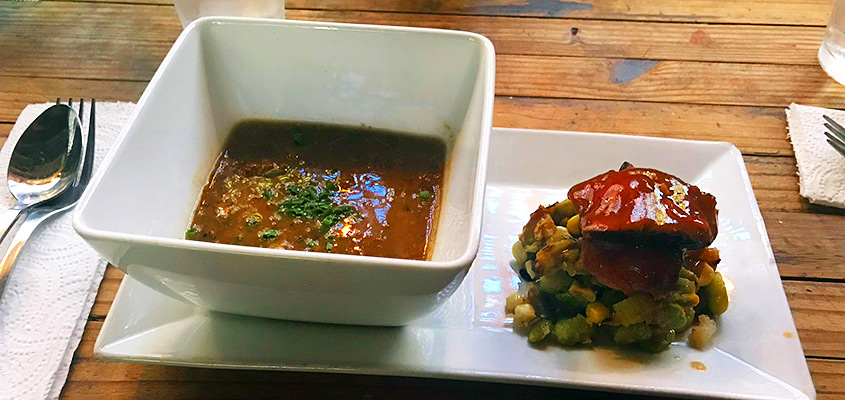 At R Kitchen we were presented a generous slice of rib-eye steak drizzled with a chocolate demi-glace, served over a scrumptious vegetable medley of celery, lima beans, corn, and a few others tasty morsels. Accompanying the steak was a bowl of red lentil soup with shredded braised beef short rib. Outstanding. The chef said our meal was a test run for what he planned on serving that night and asked for feedback from the group. He graciously took our comments and was off to the kitchen to tweak the dishes for that night's meal. So cool to have direct interaction with the chef – which is one of the reasons I love R Kitchen so much. It's a foodie's dream. They have two locations – the one in town and another in the suburb of West Ashley.


Next on the itinerary was a joint across the street from R Kitchen -- Fuel Cantina. They serve Caribbean-style dishes to patrons seated in an ultra-hip converted gas station and back patio. Guy Fieri from the Food Network's Diners Drive-ins and Dives pulled up to Fuel in 2012. They're known for their grilled jerk chicken sandwich and braised pork tacos. We were able to sample both, along with fried plantains. Out of all three dishes, the braised pork tacos were my favorite. Pulled pork, green chili aioli, sweet onion relish, and green slaw.


As we were enjoying our trifecta of goodness, Charley gave us a history lesson about all of the cultural influences on Lowcountry cuisine – African, English, French and Caribbean. And, she told us an interesting story about the history of pineapples. I won't tell it here because I can't tell it as well as she does, and I don't want to spoil the surprise. All of the chefs on the tour paid homage to the city's heritage and immigrant roots. It was reflected in their dishes, which is one of the reasons I think the Charleston food scene is so unique.


Our final stop was Sugar Bakeshop. Because every great day of eating ends with dessert… right? They take pride in small batch baking and make their baked goods fresh every day, sourcing their ingredients from local farms, businesses, and organizations within the community. We sampled the honey cupcake, which was absolutely divine. Chocolate cake with honey buttercream and chocolate sprinkles. Sugar Bakeshop was a sweet way to wrap up one amazing afternoon.


So, if you're planning a trip to Charleston and want a unique way to see the city, learn a little history, and discover some of the brightest spots on our culinary scene, I highly recommend signing up for a tour with Charleston Culinary Tours. You'll leave with a happy belly and a big smile on your face. Pinky promise.


Tanya Mulqueen is a food and lifestyle blogger from Charleston, SC, and founder of Yummy Lil' Things. She has a passion for creating recipes that actually taste good and sharing her experiences about Charleston (and other places she's visited) with anyone who will listen. She has attention deficit disorder when it comes to hobbies and is an eternal optimist who is convinced she's going to win the Power Ball someday.
Website: www.yummylilthings.com/