I'm new to South Carolina, but South Carolina's not new to me. Growing up a Louisiana girl, my family vacationed here almost every summer for six years. My parents surprised me with my first car on Edisto Island a few months before my sixteenth birthday. I saw a waterfall for the first time on Lake Keowee, which is also where I made my first, and last, attempt at water skiing. I took my first official college visit at Furman University. I fell in love with King Street shopping early on, and it still makes my heart race at twenty-two. I surfed in Charleston, played golf in Hilton Head, and sank in the pluff mud in Beaufort.


First time catching a shark with my dad on the Intercoastal near Edisto Island.


I always knew I wanted to live in South Carolina, and my dream finally came true this past August. My dad took a new job here, and I needed a change of scenery after graduating college in May. I was born and raised in small-town Louisiana. I went to high school and college there. When my dad offered me the option to move and a free place to live, it took me about 0.2 seconds to decide I wanted to become a Charlestonian. So here I am, loving life and learning all about what it's like to make it in a new place as a recent college graduate.


Playing golf at Palmetto Dunes in Hilton Head.

I have experienced a lot of firsts in the Palmetto State, and needless to say, South Carolina has always held a special place in my heart. It seems fitting that my first attempt at living in the real world should take place here, too. I was fourteen when I first visited, and there's something about summer vacation that shapes your life when you're that age; you're free and happy and invincible, without a care in the world. This is the way I came to know Charleston, and all of South Carolina, and to this day it represents that youth-like freedom to me. Even though I'm here this time as a real-world adult (which I hate to accept!), I still feel like every day is a new adventure in this city, and inspiration lives on every corner.

Throughout the next few months, I hope I'll be able to learn and share more about this great place and its attractions. But for now, I'll start with a simple list that explains Charleston for the novice.

1. It's more charming than a fairytale prince. Actually, it's more charming than all of them. Put together.


There's no other word that better encompasses the atmosphere in this city. It's romantic and artistic, and the culture is palpable. If you've never visited, you can't possibly understand what it's like to walk down historic Meeting Street, or look up at the view of the Ravenel Bridge from the harbor, or watch the sun set over the marsh. There's enough beauty and fairytale charm to last a lifetime here in the low country. So please, do yourself a favor and spend some time here!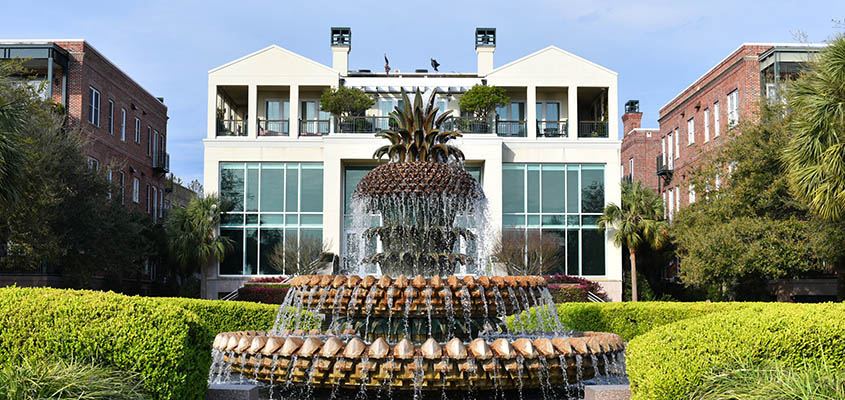 2. The people are amazing.


If you take a walk along the Battery at 8 a.m. on any given day of the week, nine out of ten people will look you in the eye, smile, and say good morning. They're walking their dogs, jogging, taking in the sunrise over the Atlantic Ocean, but they are never too busy to show you some good ole southern hospitality. If that's not the measure of friendliness and welcome, I don't know what is!


3. Oh, the places you'll… eat!


I'm from Louisiana, and even I can admit that Charleston has some of the best food imaginable. If you're a true foodie, or just someone who likes to eat in general, this is the place for you. We've got shrimp and grits, barbeque, and oysters galore. From five-star steakhouses to hole-in-the-wall dives, there's something for everyone. You can rest assured you won't leave this city hungry, or skinny for that matter! But trust me, it's worth it.


With that being said, I hope you'll consider adding Charleston to your list of vacation destinations if you haven't yet. For those of you who are locals, I hope you'll take some time to see the city through the eyes of a newbie, and soak up all those little things you start to take for granted after a few years of living here. And of course, for the benefit of everyone out there, long live Chucktown.


For those who missed the sunrise this morning, feel free to enjoy one of ours from a few years back.
Lea Anna is a Louisiana native with an undeniable accent. Raised in a small town, she learned the rules of football and the words to "Amazing Grace" before she could spell her own name. Speaking of the name, she hates being called Leah or Leanne. It's Lea, like sweet tea, add the Anna. These days, you can find her under the "big city" lights in Charleston, SC, chasing dreams she never knew she had. Like becoming a writer, getting a Master's degree, and exploring life on the east coast. She hopes you leave this blog with a little insight, and a big smile. So, in the words of a Louisianan, "laissez les bons temps rouler." Let the good times roll.