It's snowing in freaking Charleston, South Carolina! If you live in the north, you might be wondering what the big deal is. After all, this happens on a regular basis for many people. Just what is it that makes snow in the south so magical?


The first thing that comes to mind when I think about why we are in awe when it comes to snowfall, is the simple concept of rarity. The last time I blogged about winter weather in Charleston was January 30th, 2014. The title of the blog was Charleston Ice Capades because that's really all we got...ice. Sure, there was a light dusting of snow and it was still significant enough to cause us all to stay home. We still marveled at plants in the front yard icing over, but there wasn't much to "play" in.


The last time Charleston REALLY got a good snow was the winter of 1989 following Hurricane Hugo. Many residents reasoned back then that the snowfall was a Christmas present that year as Hugo had been so hard on everybody. But this time, hardship is not on our minds. To most, this is just a gift plain and simple.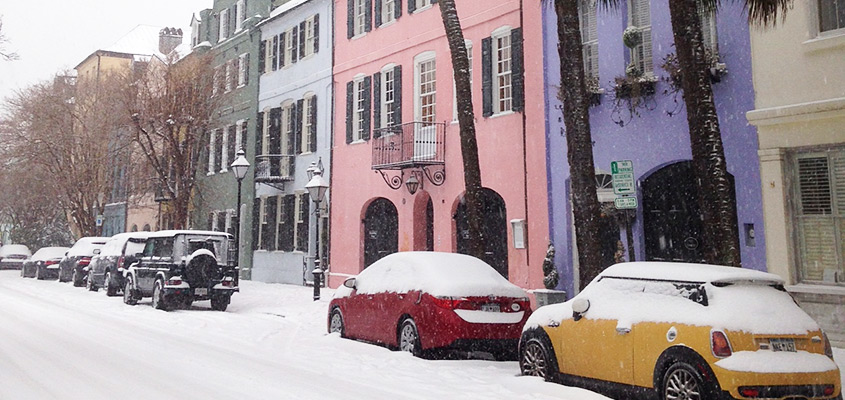 The timing couldn't be better as many Lowcountry kids were scheduled to return to school yesterday, January 3rd. Instead they got a snow day. And what a snow day it was! Meteorologists suggested we might get one to three inches of snow here, which would have been wonderful. But Winter Storm Grayson stalled over our area providing quite a bit more. I'd estimate about five and a half to six inches in the back yard yesterday, while I saw Facebook posts from friends with rulers more than seven inches deep in the snow.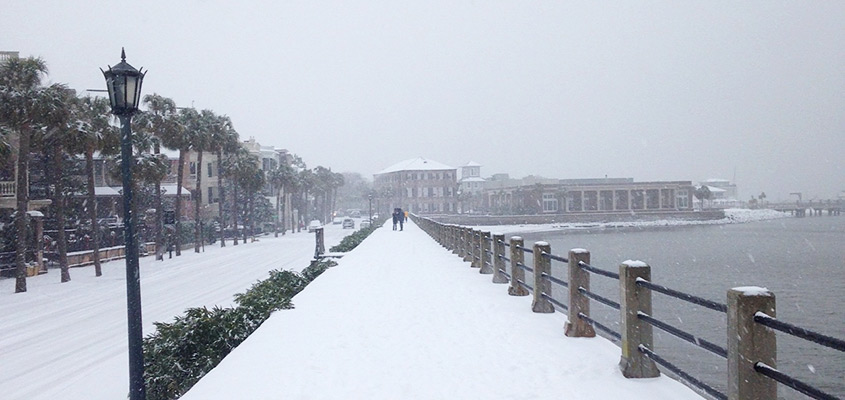 I heard someone knocking excitedly on my door yesterday afternoon. It was one of my godduaghters. "It's snowing!" she exclaimed. "Like REALLY snowing!". I came downstairs and joined two more of my godchildren. They were bundled up in whatever could be pieced together for warm clothing. They wanted to know if I wanted to go out and play with them. Definitely.


I borrowed a jacket and a hat from a friend and went outside in jeans as all my ski clothes were in storage. I heard there were news reports yesterday giving tutorials of how to tie elastic bands around ziplock bags for makeshift gloves and foot protection. In some neighborhoods, kids shared clothing with eachother and rotated when they would go out in the snow.


As for my group, all of us had experienced snow at one point whether it was vacation, a ski trip, or a short stint living in a wintery climate. So why was this different? It's in our back yard. We didn't have to pack or travel for this.


We immediately started brainstorming for sledding options (for the most part, Charlestonians don't own sleds). "Take my body boards. They're in the garage," I suggested. We gathered them up and headed to the park. We found the biggest hill we could and started going for it. As a public service announcement, body boards work pretty darn well as sleds. We were out there for hours sledding, making snow angels, and hitting one another with snow balls.
We were blissfully exhausted when we returned home to sit in front of a fire and drink hot chocolate. The whole while we kept turning around and looking outside every once in a while.
"I can't believe it's still snowing!"
"I can't believe it's snowing this much!"
"Do you think it will be here tomorrow?"


It was. We woke up again to snow. And for all of us who can avoid travel (as all of the weather outlets have advised), we are staying right here. After all, if we don't have snow attire, we definitely don't have plows or salt trucks, and black ice is a real concern as things start to thaw. in the meantime, sledding round two happened this morning.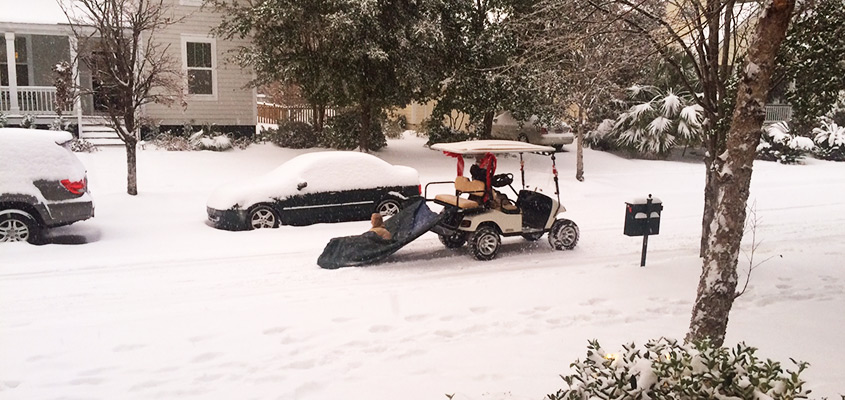 I've seen so many pictures from friends with genius ideas. Some have covered their front steps making their own sledding hill. Others were snowboarding behind trucks. And some friends pulled out their skis and went cross country skiing in downtown Charleston (there aren't many hills to be found). We even saw golf carts pulling people in tarps on the snow yesterday.


If you have friends or family in Charleston, SC and you are getting inundated with snow pics, please be patient with us. We can't help ourselves. We are beach people, but this week, we are in love with the snow.
Audra Gibson is a Christian, photographer, surfer, and a lover of teriyaki steak bites. She enjoys live music, doesn't like to be cold, and she's a bit of a cheese snob. Traveling Ink was her little brain child and she's very happy that you're here. She'd be oh so happy to recommend her favorite tours and attractions in town, help you with a team building event, or organize a day (or week) of fun for you and your group.
Website: www.audragibson.com