When my alarm clock went off at 5:30 a.m. Saturday, I thought there was a fire truck in my room. It's now that time of year in Charleston when the flowers start blooming and it's warm enough to lay in the sand on Sullivan's Island, and there are events every single weekend. All of these things are wonderful, except when you work in the travel and tourism industry! The last few weeks have been very busy for me, which caused me to neglect much of my running and training. I was apprehensive about how I would perform in the Cooper River Bridge Run with so little preparation. Needless to say, when my alarm was blaring before the crack of dawn, I was less than excited to jump out of bed and run 6.2 miles over the longest cable-stayed bridge in the country.
I begrudgingly got out of bed, got dressed, grabbed a mini cliff bar and was out the door. Driving into Mt. Pleasant on I-526 at 6 a.m., I couldn't believe how many people were already on the roads heading in the same direction. My step-mom was running with me, and my dad was kind enough to drive and drop us off near the starting line, however, not as near as we hoped! I had seen pictures from previous Bridge Runs, and I knew there would be thousands of people here for the race, but it didn't actually hit me until I arrived in Mt. Pleasant. The police stopped us just off of Highway 17 and told us we would have to walk the rest of the way. So we got out and made our way to the starting line with the other 32,000 people who came to run.
My step mom, Melissa, and I at Shem Creek on the way to the starting line.

The sun was rising as we walked over Shem Creek with the minions and superman. We stopped for a second to take in the view, and my excitement finally started to build. It was a beautiful morning and we were in fabulous company. I realized that no matter how I performed, I would be proud to say that I completed the Cooper River Bride Run when I crossed the finish line. My goal was to finish the race in under an hour and twenty minutes, which would allow for some walking, and I felt confident that I could accomplish this if I pushed myself.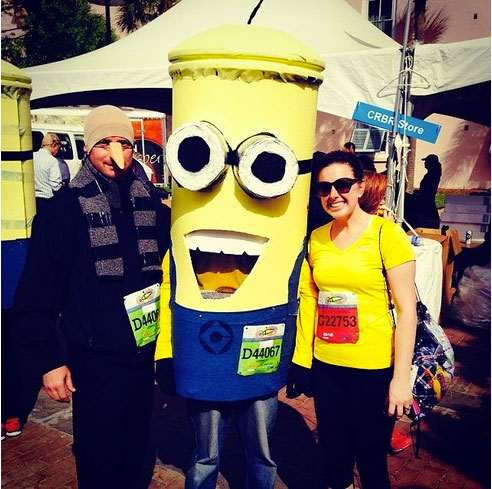 The minions. Photo courtesy of The Post and Courier

The announcer gave out instructions over the loud speaker, and different bands were playing as we lined up in our corrals. At eight-o-clock they fired the gun and the first wave was off. There were so many people that we actually didn't even get to the starting line until 8:22. There were helicopters flying over with news cameras, there was music blasting over the speakers, and people were cheering us on from the platform above the starting line. As I took my first bound over the line, I knew there were still 6.2 miles ahead of me, but my adrenaline was pumping and I felt like I could run the entire thing.

This enthusiasm quickly faded after about a mile-and-a-half when we started up the on-ramp to the bridge. Then, all I could think was, "this is one huge hill." I never got around to actually running the bridge before race day, and my first introduction was not pleasant! I made it to the two-mile marker, about half way up the bridge, and that's when I decided to walk for a while. My quads were on fire and I was in desperate need of oxygen. I tried to keep up a fast walking pace and used the opportunity to catch my breath and snap a few photos with my iPhone. At the peak of the bridge I started running again (around 2.5 miles), and I made it all the way to the mile four marker on the down slope of the off-ramp. From here I alternated running and walking as my legs already felt like Jell-o.
Making my way over the bridge.

In the process of crossing the bridge, I was passed by a unicorn duo, a Jamaican bobsled team, and a large group of cadets (no complaints there!). I was slightly depressed that two people dressed in a full unicorn costume were able to run faster than me, but thankfully I did beat two people who were dressed in a cardboard ski boat with an inner tube rider in tow. On Meeting Street there was a group of children who were singing and clapping for the runners, and this gave me a little extra motivation. When I reached the mile five marker, I decided to push myself to run the last 1.2 miles. On King Street I was seriously regretting this decision as my entire body was in radiating pain. Luckily, there was a woman handing out popsicles. I'm not sure who she was or what business she was with, but she handed me a purple popsicle that became my saving grace. If you've never tried jogging and eating a popsicle at the same time, you should. The combination of pure misery and pure bliss canceled each other out to make the last half-mile almost bearable.
The unicorn duo. Photo courtesy of The Post and Courier

At the very end of the race, the route makes the block from King St., to Wentworth St., to Meeting St., ending at Marion Square. Because this was my first time to run the race, I wasn't exactly sure where the finish line was. And because the end of the route made two lefts, I couldn't see the finish line until I was about 200 yards from it. When I turned the corner onto Meeting St. and saw the big yellow banner, I actually yelled out loud, "Yes!" I tried to sprint the last 100 yards, but my legs just wouldn't move any faster. As I crossed the line, I had the strange feeling that I wanted to cry. I was so happy yet in so much pain that I didn't actually know how to react. My final time was 1 hour, 12 minutes, and 45 seconds, and I was so proud. I found my dad, stuffed my face with a bagel, an apple, and a banana, and reflected on my first 10K race.
I'm almost there, on the far right in orange and blue.

Getting to the top of the bridge was definitely harder than I had anticipated, but finishing the rest of the race wasn't as bad as I thought it would be. Like I've mentioned in my previous blogs, I've never been much of a runner. When I first came up with the crazy idea to do the Cooper River Bridge Run, 6.2 miles seemed so unattainable, and the bridge seemed like a mountain. Though my perception of the bridge hasn't really changed, the 6.2 miles wasn't so bad.
The Citadel cadets about to cross the finish line.

In the bigger picture, I was amazed at all the different people who signed up to participate. From Birhan Nebebew, the Ethiopian who won the race with a time of 28:38:70, to Winston Moultrie, a young man who was featured on the CRBR Facebook page for completing the race as an amputee, this group of people was truly inspiring. Everyone was running for different reasons; some to meet personal goals, some to celebrate cancer survivors, and some, like the cadets, to honor the life of a lost comrade. Everyone had the same goal of getting over the bridge and crossing that finish line, but for many people out there, it was so much more than just 10 kilometers.
Winston Moultrie on Meeting St. Photo courtesy of the Cooper River Bridge Run Facebook page


As I was driving home last night, I looked over at the view of the beautiful Cooper River Bridge, and I thought to myself, I cannot believe I crossed that. There is no greater feeling than to accomplish something you didn't think possible. From now on, that bridge will have a whole new meaning for me, and for many others as well. I hope that this series of blogs has served as inspiration for readers out there who want to set new goals for themselves. If it weren't for writing this blog, I think I would have been too afraid of failure to set this goal for myself. But because my writing kept me accountable, I can now say that I ran a 10K, and that I "Got Over It" in the Cooper River Bridge Run. Thank you to those of you who supported and encouraged me the entire way. I look forward to running again next year and improving my time, and I hope that some of you will join me and the many other incredible people who run and walk this race each year.

To see some amusing and inspiring photos from the 2014 CRBR, check out the Post and Courier's social media re-cap.
Lea Anna is a Louisiana native with an undeniable accent. Raised in a small town, she learned the rules of football and the words to "Amazing Grace" before she could spell her own name. Speaking of the name, she hates being called Leah or Leanne. It's Lea, like sweet tea, add the Anna. These days, you can find her under the "big city" lights in Charleston, SC, chasing dreams she never knew she had. Like becoming a writer, getting a Master's degree, and exploring life on the east coast. She hopes you leave this blog with a little insight, and a big smile. So, in the words of a Louisianan, "laissez les bons temps rouler." Let the good times roll.