I grew up in Florida about three blocks from the Atlantic. I loved going outside and standing in my driveway, so that I could feel the warm gravel underneath my bare feet, breathe in fresh air that smelled like salt water and orange blossoms, and most importantly, listen to the sound of the ocean. When I needed to make a big decision or think about something, I'd ride my bike down to the nearest beach access to sit on the boardwalk and ponder. There was something that was just so soothing about the ocean to me, like hitting the reset button on my life in a good way. For the longest time now, the water has been a comfort to me, and for the majority of my life, that time at the water has involved surfing.


This was the oldest picture I could find of me surfing without going through albums at mom's house. I think I was around thirteen. Proof that with a big enough board you can surf almost any size wave.


I spent very little time on the sand as a kid. I wanted to be in the water. Around age seven, my mother bought me a blow-up raft to take to the beach. I rode waves in on it like a boogie board, so she eventually bought me one of those. And when I continually began trying to stand up on the boogie board, she decided she'd let me take a surfing lesson. A local surf shop called the Sun Spot gave lessons down the street from their store in front of an iconic, hurricane-surviving restaurant called the Ocean Grille. About fifteen minutes into my lesson, I got pushed into my first wave and stood up. It was one of the most euphoric feelings I've ever had. After mere seconds of joy on my first wave in, I was hooked.


Kevin O'Dare, owner of the surf shop, suggested I try out for Jr. Lifeguards when my surf lessons were done. Between my job as an oceanfront guard and my love of surfing, I spent more hours at the beach during the summer than I did in class during the school year. Sun Spot Surf Shop eventually closed sometime in the early nineties, but the last two surfboards I bought there still sit in my garage today. O'Dare became an organic farmer, selling produce to that iconic beachfront restaurant that acted as the back-drop for his shop's surf lessons long ago. I'm sure thankful he decided to be a surfer before he became a farmer.
Shortly after college, I moved to Atlanta. I only lasted a year there before heading to Charleston. My first couple of years in the Lowcountry, I lived downtown and didn't own a car, which made getting to the ocean pretty tough. Even though I wasn't physically getting to the beach, I was happy just to know that it was closer. After a while, I bought a car and began getting used to different surf breaks and slightly colder water at Folly Beach and Isle of Palms (the water in Florida didn't get cold enough to need more than a spring suit wetsuit). When I started Traveling Ink, one of my goals was to share things I love about Charleston. It's very safe to say that I love surfing, so it was a no brainer to want to include a resource for people to learn to surf on the website.
I had already found a great surf shop in Odyssey Board Shop for folks east of the Cooper River, but last summer, I came across a great Folly Beach surf resource in the form of Charleston Surf Lessons. I found out about the company through a church connection, and met with founder, Josh Wilson, after doing a little research. Josh is an experienced instructor whose surfing resume includes 3 back-to-back U.S. Championships, 4 NSSA National titles, and 5 East Coast Champion titles. He grew up surfing the Florida coastline just 45 minutes north of my hometown in Florida, and we discovered that one of his favorite surfing buddies is a guy I went to elementary school with in Vero Beach. Small world. In addition to his surfing cred and Florida connection, he seemed like a reliable instructor who was genuinely interested in getting people up and riding when they came to take a surfing lesson with him.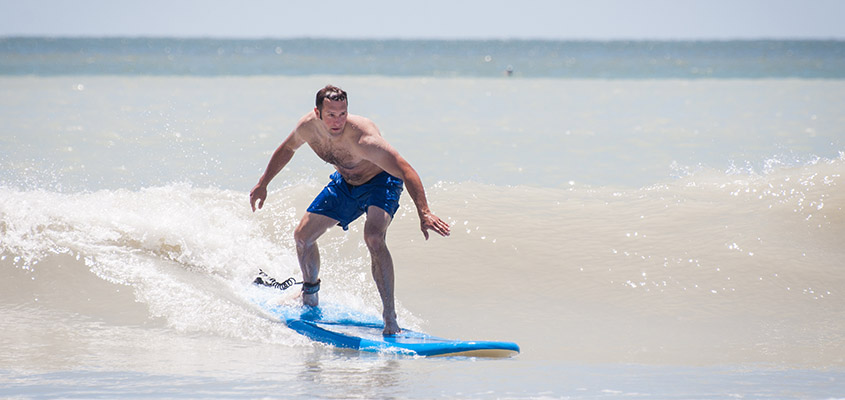 To verify things further, I decided to take a lesson with Charleston Surf Lessons. I invited my friend William, a guy who loved the outdoors but had never tried surfing, to come along. Josh explained the process for standing up on a board in three simple steps along with some general safety guidelines during our beach instruction. Shortly after, we headed down the beach just past the Folly Pier to get in the water. We got out past the breakers in quick fashion and, in almost no time, Josh helped get William into his first wave. He stood up on his first try, due partially to the great job Josh did of breaking down the sometimes confusing "pop-up" action on a surfboard. Seeing William catch his first wave wasn't quite as exciting as doing it myself, but it was close. Why? Because I remember vividly the feeling of standing up on my first wave, and it is really incredible to know a friend is getting introduced to a similar high.
Over the years, I've grown to really appreciate my time in the water in Charleston. I've had the privilege of getting to take a number of friends out surfing with me, some for their first surf experiences. Others have just talked to me about it. I've heard, "I want to learn how to surf," many times from people who think it looks healthy, or fun, or just plain cool. They're all right. So, whether you are on vacation in a beach town or have lived close to the sand for years now, if you can swim, I'd ask why you aren't surfing yet. For all those folks who would like to learn "someday", stop procrastinating and make a plan to get out there. For those planning vacation activities, there's no time like the present to get in the water with some seasoned pros like the instructors at Charleston Surf Lessons. Charleston Surf Lessons also offers surf camps in the summers through mid August.
Each spring I eagerly await the arrival of warmer water at Folly Beach (most surfers in Charleston are happy to don a wetsuit and surf year-round, but when you're a Florida native and a cold-water-wimp like me, the surf season starts in April). I surf because my life is just a bit better when I'm able to paddle out into the waves, and I hope I'll see many of the folks reading this out there eventually as well.


For more information on Charleston Surf Lessons, click here.
Audra Gibson is a Christian, photographer, surfer, and a lover of teriyaki steak bites. She enjoys live music, doesn't like to be cold, and she's a bit of a cheese snob. Traveling Ink was her little brain child and she's very happy that you're here. She'd be oh so happy to recommend her favorite tours and attractions in town, help you with a team building event, or organize a day (or week) of fun for you and your group.
Website: www.audragibson.com