The holiday season doesn't conjure thoughts of insulation, drywall, and building materials for most Americans. But when you've survived Hurricane Harvey and are trying to make your house a home again, the idea of having walls and floors again in anticipation of the holidays is pretty exciting.
On the first of November, I hopped in a van with five people from my local church, James Island Christian, and made the 17.5+ hour journey to Houston, Texas to serve a family who was dealing with the aftermath of Hurricane Harvey (aka life without walls). My church had planned a more immediate trip to Texas following Harvey, but put things on hold when a somewhat unpredictable cousin of Harvey's (Hurricane Irma) was heading up the coast. Once Charleston dried out a bit from that storm, still dodging a bullet that could have been much worse, we refocused our attention on trying to help.
It had been a tough season. In the span of about a month, we watched as Harvey doused Houston, Irma beat up the Florida Keys, a sizable earthquake rocked Mexico, Hurricane Maria pummeled Puerto Rico, and our nation recoiled with horror as a gunman opened fire on a concert crowd in Las Vegas. There was so much need. It was easy to feel overwhelmed. Still, we wanted to do something. We turned our attention back to Texas.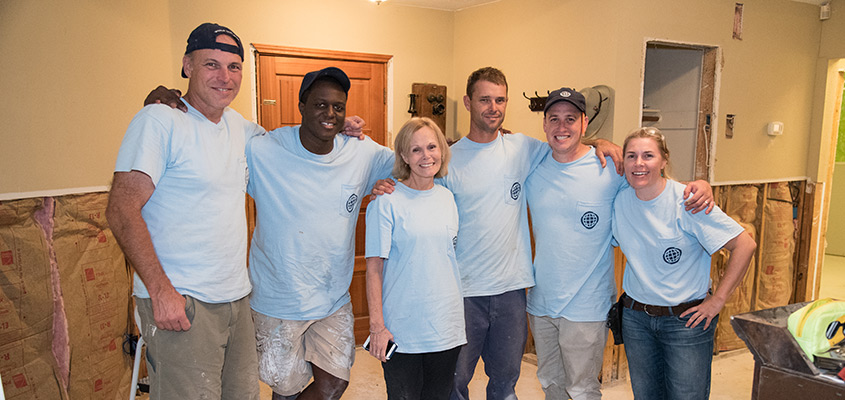 We partnered with a local Houston church, Tallowood Baptist, who offered to house us and help feed us while we were there. Most immediate needs following the storm (food, shelter, clothing, medical care) had been met for folks. But there was a huge shortage of contractors and laborers to fix people's homes. So the church matched us with a family who needed drywall. We knew we'd only be making a small dent in everything that needed to be done, but if a lot of groups were making small dents, we'd be making progress! 
So we assembled a "skill team" made up of contractors, home builders, and weekend warriors. I definitely fell into that last category. I'd hung drywall once, and had mudded only to make repairs. I'd never tackled a whole room before...much less been on a team tackling half of a house.
We spent one full day driving and rolled up to Melody and Bob Woodward's doorstep the next day. There was still a very distinct watermark on the siding and front door of their home, which had been flooded when the gates to the reservoir near their neighborhood had been opened to relieve pressure on the levees. Their floors were ruined. Shelving had buckled under it's own water-soaked weight. Their possessions had floated across the house, and the bottom half of their walls had to be gutted from being submerged in water so long.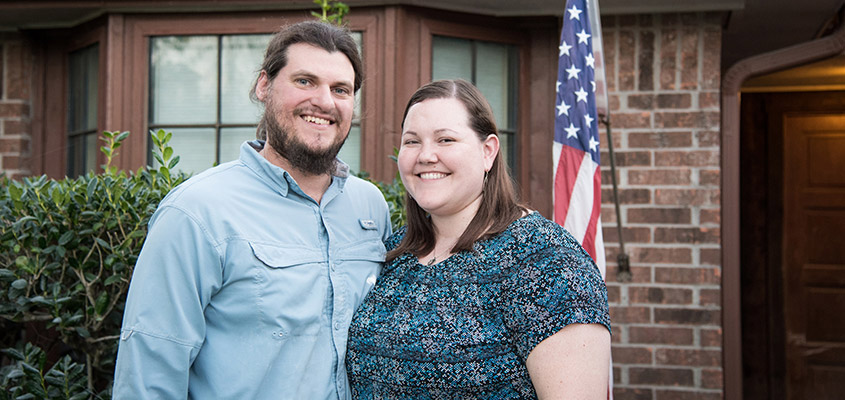 When we arrived, a small collection of salvaged furniture sat in the the living room. There wasn't much left. The rest of the house had been gutted and packed by the Woodwards, church volunteers, and Bob's coworkers. A mitigation specialist addressed potential mold issues, and the house had been left to dry for five weeks before we arrived. We got to work cutting insulation and starting to measure and cut drywall.



We had the pleasure of meeting Bob Woodward when we arrived. His employer had given him flexibility in regard to work which allowed him to work side by side with us, something he was very eager to do. His wife, Melody, who would end up joining us for work at the house on the weekend, had to be at work that first day. One of my biggest motivations was to get a noticable amount of work done on day one, so that when Melody arrived that evening, our progress would be encouraging.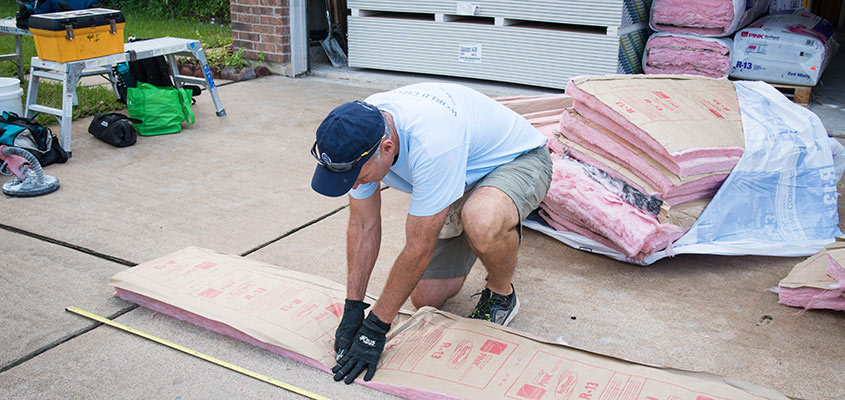 The first day we installed all the insulation, hung a good bit of drywall, and even started to tape and mud one room. When Melody arrived (with Texas BBQ in hand no less), I was instantly reminded how encouraging she and Bob would be to us. This was a couple who had been through a ridiculously devastating month. Bob had lost his mother just weeks before Harvey hit Houston. The Woodwards were out of town when the storm arrived, visiting with family and grieving her loss. Shortly after, Melody lost a grandfather. And then there was the house to deal with. Ten years of building a life in a home, attacked by a swift rush of water.
And yet, they kept their resolve. They were kind, vulnerable, and hard working. They were supportive and encouraging to one another and to our team. Bob wouldn't stop checking on us to make sure we were hydrated (which we admittedly needed at times). Melody hand made origami Christmas ornaments for us to show their appreciation. They were an easy couple to root for, and it was a blessing to be in their home.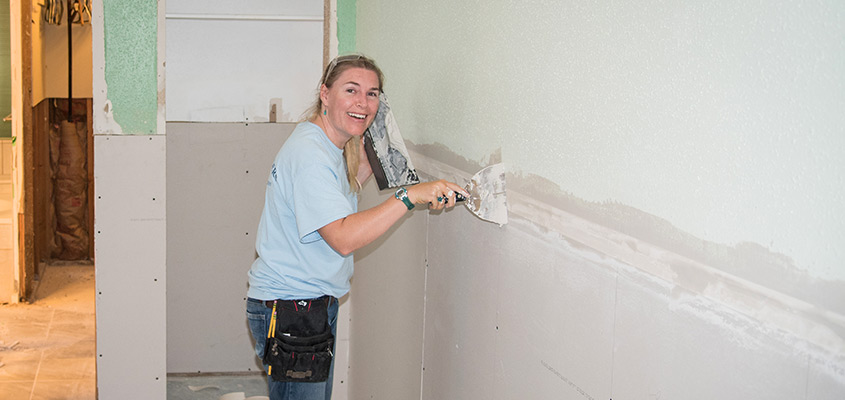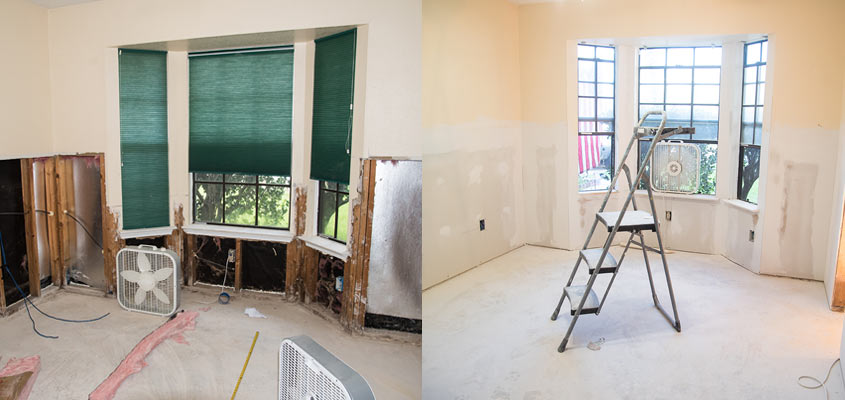 We spent the remainder of the week hanging drywall in the rest of the house and taping and floating it once it was up. We finished just under the wire to put the Woodward's in a good place to texture and paint their new walls. It was starting to feel like a home again.
It would be untrue if I said the the trip was all rainbows and sunshine. It was physically and, at times, emotionally exhausting. Two of our team members had some sort of allergic reaction on the worksite, one person suffered from dehydration, and I succumbed one day to a bad back who was much crankier than usual. Thankfully, the Lord answered prayers about all those situations. Allergic reactions subsided. Hydration returned. My back was healed.  
Through it all, it was also helpful to lean on one another and focus on our goal - to give Bob and Melody their walls back. It was a big step in their grand goal to be back in their home by Christmas. And I was thankful to be a part of it. Drywall isn't typically synonymous with gratitude and swelling hearts, but sometimes it is. 
Audra Gibson is a Christian, photographer, surfer, and a lover of teriyaki steak bites. She enjoys live music, doesn't like to be cold, and she's a bit of a cheese snob. Traveling Ink was her little brain child and she's very happy that you're here. She'd be oh so happy to recommend her favorite tours and attractions in town, help you with a team building event, or organize a day (or week) of fun for you and your group.
Website: www.audragibson.com